UNHEARD VOICES PROJECT
Helen Duhaylongsod Barcelona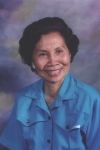 Helen Duhaylongsod Barcelona was born in Waipahu, Oahu in 1927 and grew up in Camp 9, Waipahu Sugar Plantation. Even while attending August Ahrens Elementary and Waipahu High Schools, Barcelona had a keen interest in music and was a talented singer. For over six decades Barcelona has performed on radio and in the Waipahu community.
INTERVIEWER:
Helen Rosete Nagtalon-Miller was born in Waipahu, Hawaii, on June 27, 1928. Helen was raised on a sugar cane plantation and attended Waipahu public schools, the University of Hawaii, Ohio State University and the Sorbonne (Paris, France). Throughout her teaching career, Helen infused her classes on language and education with critical perspectives gained from her humble plantation upbringing and various experiences in higher education. An advocate and activist for affirmative action, bilingual education, and civil and women's rights, Helen has influenced and inspired countless students and colleagues to keep working for the disadvantaged and disenfranchised in our society regardless of rewards or recognition. Helen Nagtalon-Miller passed away on March 2, 2014.
Among many recognitions received for her public service, Helen received the Honolulu County Committee on the Status of Women's "Women of Distinction" award (1982), National Education Association's "Award for Leadership in Asian and Pacific Island Affairs" (1985), ACLU's "Alan F. Saunders Civil Liberties Award" (1986), and University of Hawaii's "Distinguished Alumni Award" (1994).
PHOTOGRAPHS:
Helen Duhaylongsod Barcelona, radio studio, nd
Helen Duhaylongsod Barcelona, portrait, nd

The views and opinions contained in each oral history are solely those of the interviewee and interviewer and not necessarily those of eFIL, FAHSOH, FilCom, OMSS, HCH or the University of Hawaii.