Photographs from the Hawaii State Archives
This section features digitized photographs from the Hawaii State Archives. All photographs in this section may be viewed on-screen as a low-resolution jpeg and downloaded as a high-resolution PDF file.
I. Miscellaneous Events [here]
II. Kapaa Strike Camp Pictures
In 1925 the Board of Health sent an inspection team to Kapaa, Kauai to assess the sanitary conditions of the Kapaa strikers' camp. These are some of the photographs that accompanied the final report.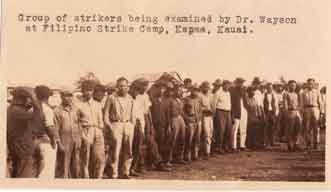 Group of strikers being examined by Dr. Wayson at Filipino Strike Camp, Kapaa, Kauai. [PDF]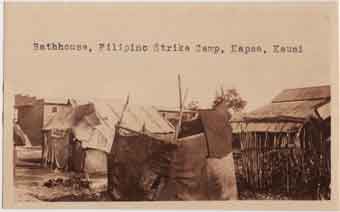 Bathhouse, Filipino Strike Camp, Kapaa, Kauai. [PDF]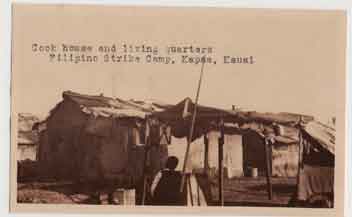 Cook house and living quarters, Filipino Strike Camp, Kapaa, Kauai. [PDF]