The Julian Yorong Rondalla Group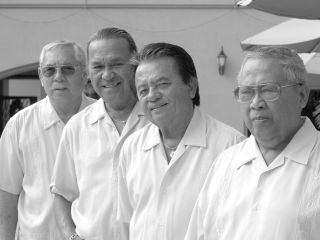 The Julian Yorong Rondalla Group is made up of four musicians born in the 1930s and raised on Hawaii's pineapple and sugar plantations. Accomplished musicians in their own right, they have come together in recent years to play music they heard in their youth. Their versions of traditional Filipino standards are infused with their varied experiences — accumulated over five decades — as jazz and Hawaiian-style musicians. The Group's members (pictured above, left to right) are Julian Yorong, Roland Aton, Joe Engbino and Sonny Popa.
In November of 2008 eFIL recorded The Julian Yorong Rondalla Group as part of a cultural preservation project with Filipino Community Center (Waipahu), the Bishop Museum, the Office of Multicultural Student Services of the University of Hawaii at Manoa and funded by the U.S. Institute for Museum and Library Services. A CD of these recordings entitled "DA CAPO" (return to the beginning) is being distributed to Hawaii schools and libraries.
For others interested in these recordings, downloadable mp3 files are made available below. PLEASE NOTE, these mp3 files are copyrighted by the Filipino-American Historical Society of Hawaii and are made available for personal listening and education use only. Any other use or reproduction for other purposes is prohibited by law. Refer to our Copyright page for further information.
| | |
| --- | --- |
| Samboanga March | mp3 |
| Leron Leron Sinta/Planting Rice | mp3 |
| Lahat ng Araw | mp3 |
| Maling Gayang Araw Takna | mp3 |
| No Dua Duaem Pay | mp3 |
| Under The Double Eagle | mp3 |
| I Am Hawaii | mp3 |
| I Fell In Love With Honolulu | mp3 |
| Waikiki Chikadee | mp3 |
| Imagination | mp3 |
| Look For The Silver Lining | mp3 |
| Maala Ala Mo Kaya | mp3 |
| Dahil Sa Iyo | mp3 |
| Mabuhay March | mp3 |
Recorded: November 18, 2008, FilCom Center Ballroom
Microphones: Audio-Technica AT3031, AT825, ATM410 and ATM710
Other: Alesis MultiMix 12, Tascam SS-R1 recorder, Adobe Audition 1.0
PHOTOS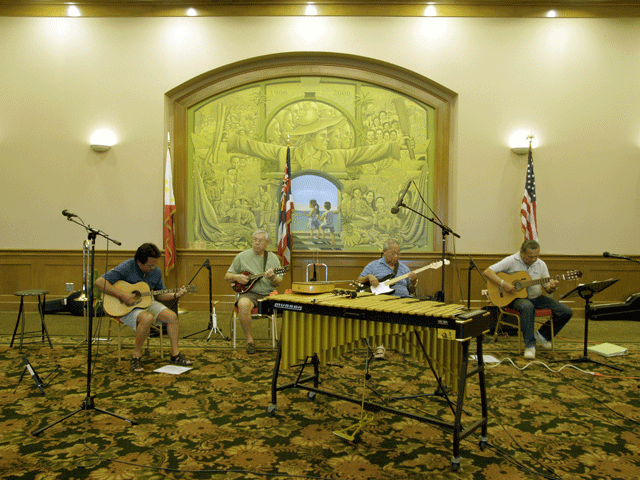 Recording session at FilCom (Waipahu, Hawaii), November 18, 2008.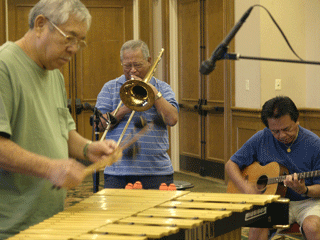 Julian Yorong (vibes, mandolin), Sonny Popa (trombone, bass), Joe Engbino (guitar).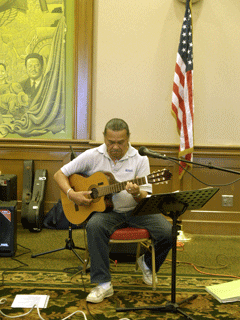 Roland Aton (guitar, vocals)
ADDITIONAL BIOGRAPHIC TEXT
Accompanying text in CD release [pdf]