GUMIL HAWAII
Gunglo Dagiti Mannurat nga Ilokano iti Hawaii
(Association of Ilocano Writers in Hawaii)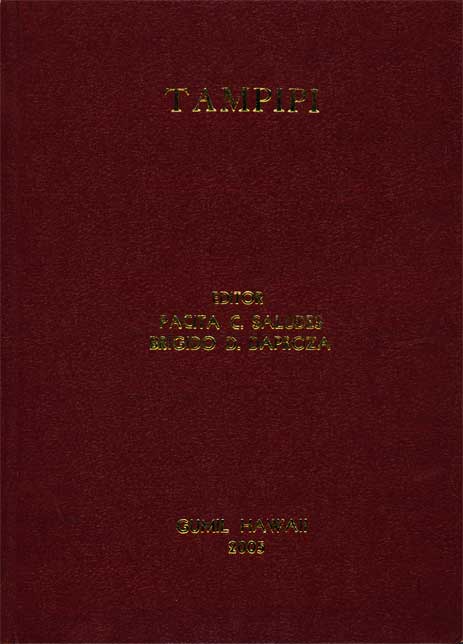 TAMPIPI (2005) - 16th anthology [download]
Please cite individual articles/writers and volume title as follows:
[author (last name first)]. 2005. [story/poem/essay title] Tampipi, [pages]. Pacita C. Saludes & Bridgido D. Daproza, editors. Honolulu: Gumil Hawaii. http://www.efilarchives.org/pubications (accessed [date of download]).
I. DAGITI DANIW
PTCS
Sakada
Fely Cristobal
Filcom Center
Kaibatogan Ti Maysa A Pobre
Anus Ken Regta
Bernardo C. Collo
Mercedita
Ti Pluma Nga Agur-Uray
Tessie Fagarang
Natungal Nga Arapaap
Trini de Vera
Iti Pangamaymaysak
Dolores Tabion
Solotsolot
Ben and Naty M. Cacho
Nasudi nga Ayat
Katawa Ti Kadarantan
Annak Ken Nagannak
Joycelyn D. Agustin
Kas Iti Aglabas A Panawen
Pacita C. Saludes
Tawen 2003
Pinoy, Sika Dayta!
Naikudi A Biahe
Ita Ta Nasapa Pay
Balligi
Terrenden Ti Rikna
Palagip
Natikag A Kalman
Gumawgawwawa A Kararua
Denggennak, Tatangko
Ti Pinarusing Nga Ayat
Baro A Bigat
Sirmata Ti Biag
Dua A Daniw
Panagpili
Israel
Bethlehem
Ti Anibersariota
Gasat Ken Ayat
Dungngo Ni Nanang
Lagip Iti Isasarungkarko Idiay Belen
No Lumnek Ti Init
Kenka Botante
Garit Ni Ayat

II. SALAYSAY
Aurelio S. Agcaoili
Tampipi Ni Laing, Arte, Ken Ayat
Rose Cruz Daproza
Laglagip, Sirmata Ken Arapaap
Naty M. Cacho
Nasuki Nga Ayan-Ayat
III. Drama
Carlo M. Laforga
Nasutil Ni Ayat
IV. ABABA A NOBELA

Pacita Cabulera Saludes
Inton Kumayka Tuntonen
V. ENGLISH SECTION
Severino V. Pablo
Gumil Hawaii, The Sakada and the Tampipi
Lorenzo G. Tabin and Sinamar Robianes Tabin
Anybody Knows Her Yet?
Melchor C. Agag, Jr.
Sakada
Anonymous
Glad You're in My Dash
The Wooden Bowl

Brigido and Rose Daproza
How I Wish
I Love You
For You Beloved, On This Day
When Darkness Falls
Dropping Into Nod
Death of the Tree
Hello God
Children's Greetings to Their Father
Godofredo S. Reyes and Dedicacion M. Agatep-Reyes
Ilocanos Abroad: Observations and Impression
Jeremias A. Calixto
Reaching for Higher Grounds
Elizabeth Madarang-Raquel
Gumil Hawaii: A Lasting Impression
Gumil Hawaii Dates to Remember
Gumil Hawaii Members (2004-2006)
VI. GH MUSES
Cora Manuel
Rita Marie Sagucio
Severina Marie Cadiente
Eugenia Santos Pascual
Charito Parado
Laurel Saludes Ramiro
Florida Agdinaoay Isla
Andrea Kuulie Chang
Deogracias C. Perez
Carlo M. Laforga
Natividad M. Cacho
History of GUMIL Hawaii
GH Organizers
Officers of GF
Dagiti Antolohia ti GH
Looking Back
Pictorials
What They Say to GUMIL HAWAII
Dagiti Editor