GUMIL HAWAII
Annak Ti Kailokuan Iti America
(Children of Ilocanos in America)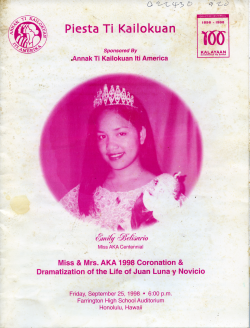 PIESTA TI KAILOKUAN (1998)
Miss & Mrs. AKA 1998 Coronation &
Dramatization of The Life of Juan Luna y Novicio
[download, 5MB]
Please cite individual articles/writers and volume title as follows:
[author (last name first)]. 1998. [story/poem/essay title] Piesta Ti Kailokuan 1998 Souvenir Program, [pages]. Pacita C. Saludes, Cleo Bala Casino and Edith Pascua, editors. Honolulu: Annak Ti Kailokuan Iti America. http://www.efilarchives.org/pubications (accessed [date of download]).
Souvenir booklet of 1998 coronation of Miss and Mrs. AKA (Annak Ti Kailokuan Iti America) and dramatization of The Life of Juan Luna y Novicio, directed by Pacita Cabulera Saludes. Event took place on September 25, 1998, at Farrington High School Auditorium, Honolulu, Hawai and coincided with the Philippine Centennial Celebration (1898-1998) - "Kalayaan Kayamanan ng Bayan."
Booklet includes the following:
Welcome Letters
Governor Benjamin J. Cayetano
Philippine Consul General Minerva Jean A. Falcon
Honolulu Mayor Jeremy Harris
United Filipino Council of Hawaii President Don A. Alvarez
Oahu Filipino Community Council President Benjamin C. Cabreros
Attorney Peter A. Aduja
AKA President Pacita Cabulera Saludes
AKA Vice President Lourdes A. Nedic (West Covina, CA).
Essay
"How Annak Ti Kailokuan Iti America Came Into Being" (in English), by Pacita C. Saludes.
Biographic Descriptions
Amelita Dela Cruz Ramiscal (Mrs. AKA Centennial)
Emily Belisario (Miss AKA Centennial).
Poem
"Oh, Ilik a Pilipinas," by Pascual R. Rarama.
Other
Photos taken at selection of Queen of Queens (Virgie Acosta Domingo)
Coordinating committees
Royal Court 1998
Program description
Sponsor advertisements