GUMIL HAWAII
Gunglo Dagiti Mannurat nga Ilokano iti Hawaii
(Association of Ilocano Writers in Hawaii)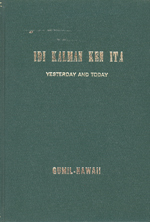 Idi Kalman Ken Ita (Yesterday and Today, 1976) - 3rd anthology [download]
Please cite individual articles/writers and volume title as follows:
[author (last name first)]. 1976. [story/poem/essay title] Idi Kalman Ken Ita, [pages]. Pacita Cabulera Saludes, editor. Honolulu: Gumil Hawaii. http://www.efilarchives.org/pubications (accessed [date of download]).
I. ILUKO SEKSION
Rev. Juan Dahilig
Foreward
Pacita Cabulera Saludes
Pakauna
Rev. David D. Saludes
Awis Kadagiti Mannurat a Filipino
Felipe Madarang
Dagiti Filipinos Ditoy Hawaii
Napaspasamak Kadagiti Filipinos iti Hawaii
Lina C. Saludes
Ti Pamilia
Amado Yoro
Tapno Tumanorda a Responsible
Ines Cayaban
Napaliiw ko, Nakitak, Nakairamanak
Arnold Baxa
Tungal Padas, Maysa a Tukad
Catalino Suero
Umona a Filipino a Mayor ti America
Rev. Juan Dahilig
Dinto Malipatan Dagiti Padas ken Pasamak
Aurora Manayan
Umona a Radio Station ti American
Pacita Cabuera Saludes
Ti Paraiso ken ni Hawayano Filipino
Dagiti nagballigi a Filipino iti Hawaii
Dagiti Nagsurat
II. ENGLISH
EDITORS
Our Very Own Image
Pacita Cabulera Saludes
Some Problems Affecting the Filipinos in Hawaii
State Council of Philippine Heritage
The Three Powerful Terms
Michael Forman
Language, Literacy, Linguistics, Law and Gumil
Melchor C. Agag, Jr.
Gumil-Hawaii
Aida Ramiscal
The Hawaii Bilingual/Bicultural Education Program
Saturnino G. Rafada, Jr.
A Salute to GUMIL-Hawaii
Pictorials
Mel Agag, Jr.
The UFCH: A Vision Realized
The Different Filipino Organizations
Chito Pena Camonayan
Brief History of Dingras
David D. Saludez
Why Are We In Hawaii?
Objective of G.H.
Rev. Juan F. Dahilig
The Editor