GUMIL HAWAII
Gunglo Dagiti Mannurat nga Ilokano iti Hawaii
(Association of Ilocano Writers in Hawaii)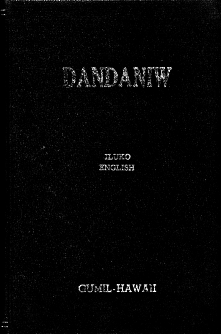 Dandaniw (1974) - 2nd anthology [download]
Please cite individual articles/writers and volume title as follows:
[author (last name first)]. 1974. [story/poem/essay title] Dandaniw, [pages]. Pacita Cabulera Saludes, editor. Honolulu: Gumil Hawaii. http://www.efilarchives.org/pubications (accessed [date of download]).
I. DANDANIW
Pacita Cabulera Saludes
GUMIL-Hawaii
Ballaigi
Aldaw Dagiti Agayan-ayat
Gapu Kenka
Ita A Paskua
Kenka Nanangko
Naiyanaken Ni Jesus
Lagip Iti Paskua
Siit Ti Biag
Sika Ti Bagnosko
Daksanggasatak Nga Ina
No Awanka
Dila
Nanangko
Umel A Pagarup
Lagip
Sapulenkanto
Iti Ipapanawko
Sumubliakto
Nagsantaken Dagiti Parmatak
Natikag A Kalman
Tatangko
Bukanegan
Mel C. Agag, Jr.
No Panpanunotek
Kenka Naslag A Reyna
Carlito M. Laforga
Kenka, Nanang: Mrs. Cleotilde Magbual Laforga
Patpatgenka, Tatangko: Mr. Hilario A. Laforga
Ay-Ayatenka, Imnas
Sabali A Gundaway
Denggennak, Imnas
Malaglagipka Latta
Sapsapulenka, Ayatko
Agsubliakto
Paskua, Aldaw A Naisangsangayan
Filipinas
Sika Ti Inspirasionko
Chito Pena Camonayan
Kenka, Miss Hawaii-Filipina 1973
"Paradise Magazine"
Natubay Iti Panawen
Kaniwanka, O Ilokana
Agiag Ni Ferdie Marcos!!
Lorelei Arquero
Sonny Boy
Robert Adriano Bagain
Gasat
Jessie Al Domingo
Paskua 1970
Pascual Rarama
Adtoyen Di Kari
Onofre Ramiscal
Lagip
David D. Saludez
Tulong
Fely Cristobal
Tatangko (Fely Cristobal)
Nanagko
Bienbenida Bolibol
Lagip Ti Paskua
Felipe A. Madarang
Ilocos Norte Saan A Maudi
Kenka O! Kupido
Aldaw Dagiti Inna
Panagtulnog Iti Linteg
Kenka O! Imnas
Awaganka O! Nanangko
Kenka Sabong Ni Asusena
Ti Nailian A Panagkaykaysa
Iti Pannagna Ti Aldaw
Baro A Tawen
Kenka Napateg A Mangisursuro
Filipinas
Kinagaget Ni Filipino
Elizabeth B. Madarang
Iti Panglasat Ti Aldaw
Saan Ka A Manglipat
Cielita Fontanilla
Taliawen-nak Man
Maura Tacderan
Ay-ayatenka
Antone Cacatian, Sr.
Hawaii Philippine Foundation Aid Association

II. DAGITI GUNGLO FILIPINO ITI HAWAII
Paz Tacderan Cabulera
The Moments With You
When I Say Goodbye
My Wishes
Beauty Of The Sunset
Without Thee
Springtime Beloved
The Wonderful Image
Alone
Every Morn, A Challenge
Loneliness
A Bit Of Sufferings To Glory
Come Beloved
The Way We Were
Mel Cadavona Agag, Jr.
The Echoes Within
December
Departure
Pernille C. Fe Benito
Roses
Life
Goodbye
Paulo Aragon
Celebrating The Temporary
David Saludez
Summa Patriotico
Creativity
To The Night
Cogito Ergo Sum
These Are Whispers
Marlene Manzano
Thank You, O Lord
When He Leaves You
R.B.L.
A Prayer
The Agony Of Pain
M.P.B. Ozorio
Memories
On Parting
Yearnings
Anonymous
Recipe For A Good Life
Life's Clock
III. UNITED FILIPINO COUNCIL OF HAWAII (UFCH)