GUMIL HAWAII
Gunglo Dagiti Mannurat nga Ilokano iti Hawaii
(Association of Ilocano Writers in Hawaii)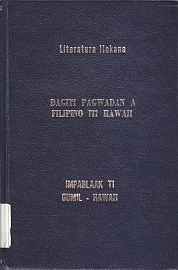 Dagiti Pagwadan a Filipino iti Hawaii (1973) - 1st anthology
[download, 37MB]
Please cite individual articles/writers and volume title as follows:
[author (last name first)]. 1973. [story/poem/essay title] Dagiti Pagwadan a Filipino iti Hawaii, [pages]. Pacita Cabulera Saludes, editor. Honolulu: Gumil Hawaii. http://www.efilarchives.org/pubications (accessed [date of download]).
CONTENTS
Message from the Acting Governor of Hawaii - George R. Ariyoshi
Message from the Mayor of the City and County of Honolulu - Frank F. Fasi
Message from the President of Oahu Filipino Community Council - Pedro Racelis, Jr.
A Writer's Guild is Born
Mel Cadavona Agag, Jr.

Pakauna
Pacita Cabulera Saludes, Founder and President, GUMIL Hawaii

Forward
Rev. Juan F. Dahilig

Research and Observations
GUMIL Hawaii President and Lina C. Saludes, Secretary, GUMIL-Hawaii

Pakasaritaan Dagiti Filipinos Iti Hawaii
Manipud iti Editor
Ti Pondador Riniingna Dagiti Filipino A Mannurat Iti America (Pacita Cabulera Saludes)
Felipe A. Madarang
Agtartaray Kadigiti Uratna Ti Kinamanurat (Chito Pena Camonayan)
Pacita Cabulera Saludes
Rev. Juan F. Dahilig
Melcor Cadavona Agag, Jr.
Nagballaigi Dagiti Adu A Grupo Gapu Kenkuana (Felipe A. Madarang)
"Iti Banko Wenno Iti Alkansya" (Leodegario M. Blanco)
Maysa Kadagiti Kangrunaan Nga Ama Iti Hawaii (Rev. & Mrs. Ken Matias Miguel)
Ilokano Iti Pagpandayan Ti Linteg (Peter A. Aduja)
Mrs. Ines V. Cayaban
Mel. C. Agag, Jr.
Konsul Nga Agtaengen Iti Hawaii (Konsul Gen. Adriano Pasion)
Pactia C. Saludes
Gapu Kenkuana Mapaganaygay Dagiti Awananen Namnama (Engr. Benefico F. Paraso)
Kinaanus Ken Kinamanagayat Ti Nagpuonanna (Catalino Gonzales Suero)
Nalayog Dagiti Arapaapna (Flogenio 'Gene' Albano)
Immuna A Nangisurat Maipanggep Ti Pangdaliasat (Diosdado Avecilla)
Immuna A Filipino A Councilman Ti Maui (Richard 'Pablo' Caldito)
Saan Nga Aglakay Ti Timekna Iti Radio (Asiclo Baylon Sevilla)
Ik-Ikutanna Ti Agnanayon A Panagtalek (Gregorio C. Guerrero)
Napiget Nga Agserbi (Leon Balbuena)
Dr. Henry A. Manayan
Antone C. Cacatian, Sr.
Melchor C. Agag, Jr.
Justo de la Cruz
Biography of Dr. Marcelino J. Avecilla
Madarang
Taklin Ti Salun-at (Dr. Jose L. Romero)
Amado Baxa
Namnama Dagiti Ilokano (Emilio Alcon)
Tinenneb Dagiti Padas (Juanito Balbuena Buza)
Natured A Makirinnupir Ti Kalintegan (Jose Villegas)
Rosalina Arzadon
Namnama Ti Isla Ti Kauai (Tony Arzadon Ti)
Fortunato Teho
Melchor C. Agag, Jr.
Preamble & Objectives
Opisyales
Board of Directors
Dagiti Kamkameng (Members)