GUMIL HAWAII
Gunglo Dagiti Mannurat nga Ilokano iti Hawaii
(Association of Ilocano Writers in Hawaii)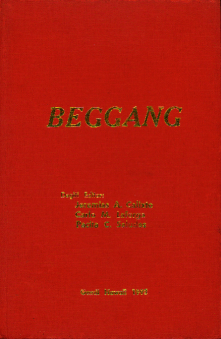 Beggang - 11th anthology [download]
Please cite individual articles/writers and volume title as follows:
[author (last name first)]. 1993. [story/poem/essay title] Beggang, [pages]. Jeremias A. Calixto; Laforga, Carlo M.; and Saludes, Pacita C., editors. Honolulu: Gumil Hawaii. http://www.efilarchives.org/pubications (accessed [date of download]).
I. SARITA
Jeremias A. Calixto
Kayaw
Severino A. Lazo
Ni Basang
Francisco T. Ponce
Kastoy Gayam Wen Anusak
Pacita C. Saludes
Ilokana Dayta, Marlon
Ti Panagpakadak
Inton Agsubliak
II. DANIW
Jocelyn Dumlao Agustin
Kas Iti Aglabas A Panawen
Cleo Bala
Biag
Arnold C. Baxa
Ita Nga Aldaw
Komustaka!
Ines Viernes Cayaban
Claveria (Cabicungan)
Fely Cristobal
Iti Kaawanmo Nanang
Jasmenia Justina Quicho Feria
Batonlagip Ni Ayat
Carlito M. Laforga
Iyo Pa Rin
Felipe A. Madarang
Iliw iti Nakayanakan
Mercedes D. Neri
Kenka O Ina
Lorie Saoit
Sapsapulenka
Perlita Sadorra
Bunga Ti Dungngo Ni Nanag
Pacita C. Saludes
Ul-Ulila
Agmulaka
Daniwanda
Kenka Gumil Hawaii
Tessie Agpaoa Sotelo
Patpatgendaka
Gapu Kenka
III. DRAMA
Severino A. Lazo
Wen, Napategka Nanangko ...!
Pacita Cabulera Saludes
Ti Napugsat A Tanikala
IV. SALAYSAY
Ricarte A. Agnes
Nabagas ti Apit no adda Karit
Crescencia Dela Rosa Domingo
Panirigan ken Kapampanunotan
Severino A. Lazo
Ti Love Affairmi iti Gumil Hawaii
V. FEATURED ARTICLES
Paulo Aragon
Icarus or Daedalus: The Filipino Literary Imagination
The Responsibility...A Privilege
Bill Said Soul
Jeremias A. Calixto
Pilgrimage to the Valley of the Temples
Hawaii Remembered
Ines V. Cayaban
The Elegant Filipina Terno and its Evolution
Dances and Dancing
Dance and Music of the Philippines
Benjamin M. Pascual
Dr. Hermogenes F. Belen: Creative Writer and Intellectual
Rev. Cipriano Pasoquen
Parents, the Key to Drug-Free Family and Drug-Free Community
David Saludez
The Shape of Loneliness
Irenio C. Vergara
Memories of a Sakada
Long Road to Molokai
VI. POETRY
Pernille C. Fe Benito
Life
Ines Viernes Cayaban
Jose Rizal Y Mercado
Vic C. Mon
Two Poems (Twilight Thoughts, December Thoughts)
December 30th
David D. Saludez
Aganos
PICTORIALS
ACKNOWLEDGEMENTS