Ti gumil hawaii iti tallo a dekada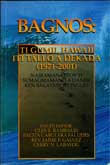 Bagnos (1971-2001) [download]
Please cite individual articles/writers and volume title as follows:
[author (last name first)]. 2001. [story/poem/essay title] Bagnos: Ti Gumil Hawaii Iti Tallo A Dekada (1971-2001), [pages]. Rambaud, Cles B.; Saludes, Pacita Cabulera; Rev. Galvez, Jaime F.; Labayog, Gerry N., editors. Honolulu: Gumil Hawaii. http://www.efilarchives.org/publications (accessed [date of download]).
Bagnos Dagiti Sumarsaruno A Kaputotan
Ti Kunada
---ILUKO---
I. Dandaniw

A. Elmer Omar Bascos Pizo
Kulibangbang
Orkidia

B. Pacita C. Saludes
No Ni Ayat Ti Agrusing
Kenka, Mangisursuro
Belen
Dungngo Ni Nanang
Ama
Kasla Idi Kalman Laeng
Ina, Ayanmo?
Karit Dagiti Darikmat
Sirmata
Ilokano
Iluko
Baro A Milenium
Sumipnget
Iti Aldaw Ti Panagyaman
Warnakan
Kararua A Gumawgawawa
Palagip
Natikag A Kalman
Israel
Iti Aldaw Ti Wayawaya
Ti Tao
Panawen Ken Gasat
Kenka, Ina
Baro A Tawen

C. Carlo Magbual Laforga
Daytoy Kadin Ti Katukad Dagidi?
Iburaymo Ta Ayat
Saan Nga Agkupas
Saanen A Siki Daydi Sika
Agnanayon A Nakuyem Ti Panawen
Daytoy Ti Hawaii

D. Lourdes Nedic
Lulua
Iti Kasangaymo, America
Ditoy America

E. Pascual Rama
Ni Baket, Idi Ken Ita

F. Rev. Jaime F. Galvez

II. Drama
A. Gerry N. Labayog
Papel A Rosas
B. Pacita C. Saludes
Agtangkayagen Ti Init
Gapu Ta Patpatgenka

III. Salaysay
A. Jermias A. Calixto
Maysa Nga Aldaw Iti Valley of the Temples
--ENGLISH--
I. Poetry
A. Irenio Vergara
Journey
Married Life
Desert Storm War
Physical Awareness
B. Pacita Saludes
Tres De Mayo
C. Benjamin D. Jacobe
Turn Around
Call It Marriage
D. Rev. David Saludez
II. Essay
A. Pacita C. Saludes
Gumil Hawaii in 30 Years
B. Rochelle C. Saludes
Pacing, The Superwoman
C. Josephine Iwatani-Cramer
My Memories of Manang Pacing
D. Melchor Cadavona Agag, Jr.
A Writers' Guild Is Born!
E. Camille Joy Galvez
Why I Write?
--LADAWAN KEN DADDUMA PAY--
Ladawan
Dagiti Mutia Ti Gumil Hawaii
Panangyam-ammo