GUMIL HAWAII
Annak ti Kailokuan iti Amerika
(Children of Ilocanos in America)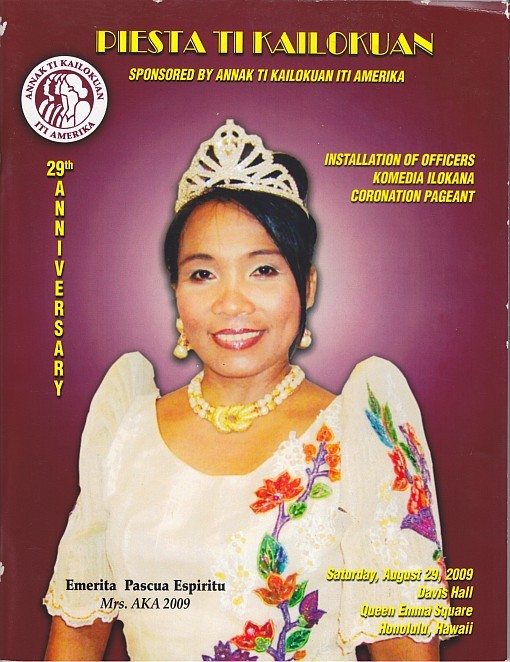 PIESTA TI KAILOKUAN
AKA's 29th Anniversary
Installation of Officers
Komedia Ilokana
Coronation Pageant
August 29, 2009
Davis Hall, Queen Emma Square
Honolulu, Hawaii

[download, 20.4MB]
Please cite individual articles/writers and volume title as follows:
[author (last name first)]. 2009. [story/poem/essay title] Piesta Ti Kailokuan 2009 Souvenir Program, [pages]. Pacita C. Saludes and Perlita Tapec Sadorra, editors. Honolulu: Annak ti Kailokuan iti America. http://www.efilarchives.org/pubications (accessed [date of download]).
Souvenir booklet of 28th anniversary of Annak ti Kailokuan iti Amerika, komedia Ilokana and 2009 coronation of Mrs. AKA and Miss AKA. Event took place on August 29, 2009, at Davis Hall, Queen Emma Square (Honolulu, Oahu).
Booklet includes the following:
Welcome Letters
Consul General of the Philippines Leoncio R. Cardenas
AKA President Pacita Cabulera Saludes
Honorable Reynaldo D. Graulty, Hawaii Circuit Court (retired)
Biographic Descriptions
Jennifer Dalmacio (Miss AKA 2009)
Emerita Pascua Espiritu (Mrs. AKA 2009)

Other
Annak ti Kailokuan iti America, Officers 2009-2011
Komedia Ilokana Pakasaritaan ti Kabibiag ni Prinsipe Osmondo
Past Queens of AKA [list]
Royal Court
Program
GUMIL Hawaii Officers 2009-2011
Queen's Farewell, Lilia Esposo Del Rosario (Mrs. AKA 2008)
Acknowledgements
Sponsor Advertisements