GUMIL HAWAII
Annak ti Kailokuan iti Amerika
(Children of Ilocanos in America)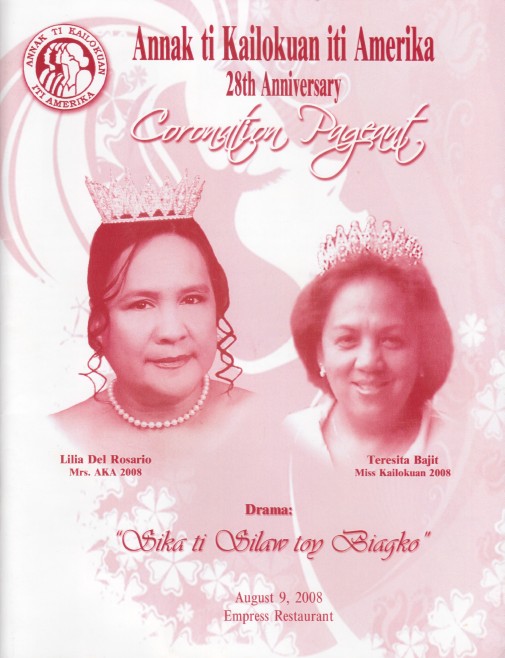 AKA 28th Anniversary
Coronation Pageant
Sika ti Silaw toy Biagko [drama]
August 9, 2008
Empress Restaurant
Honolulu, Hawaii
[download, 10.6MB]
Please cite individual articles/writers and volume title as follows:
[author (last name first)]. 2008. [story/poem/essay title] AKA 2008 2010 Souvenir Program, [pages]. Perlita Sadorra and Pacita C. Saludes, editors. Honolulu: Annak ti Kailokuan iti America. http://www.efilarchives.org/pubications (accessed [date of download]).
Souvenir booklet of 28th anniversary of Annak ti Kailokuan iti Amerika, and 2008 coronation of Mrs. AKA and Ms. Kailokuan. Event took place on August 9, 2008, at the Empress Restaurant, Honolulu, Hawaii (Chinatown Cultural Plaza).
Booklet includes the following:
Welcome Letters
Consul General of the Philippines Ariel Y. Abadilla
Mayor of Honolulu Mufi Hanneman
Oahu Filipino Community Council Incoming President Cirvalina R. Longboy
AKA President Pacita Cabulera Saludes

Biographic Descriptions
Lilia Esporo Del Rosario (Mrs. AKA 2008)
Teresita Osias Bajit (Ms. Kailokuan 2008)
Other
Oldest Officers of AKA (Lourdes Nedic, Maxi Allagones, Cirio Gamponia)
AKA Officers 2006-2008)
Sika ti Silaw ti Biagko Drama Participants
Acknowledgements
Committees and Past Queens
Royal Court
Program
Sponsor Advertisements