GUMIL HAWAII
Annak ti Kailokuan iti Amerika
(Children of Ilocanos in America)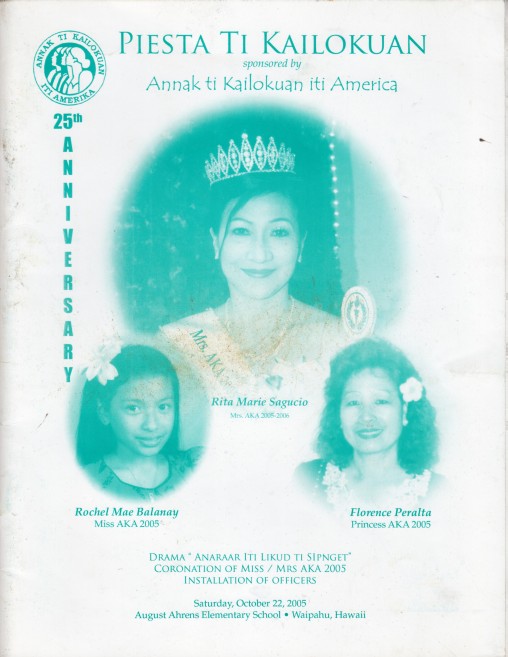 Piesta Ti Kailokuan
AKA 25th Anniversary
Coronation Pageant
Anaraar Iti Likud Ti Sipnget [drama]
October 22, 2005
August Ahrens Elementary School
Waipahu, Hawaii
[download, 14MB]
Please cite individual articles/writers and volume title as follows:
[author (last name first)]. 2010. [story/poem/essay title] Piesta Ti Kailokuan 2005 Souvenir Program, [pages]. Pacita C. Saludes, Bridido Daproza and Lilia E. Del Rosario, editors. Honolulu: Annak ti Kailokuan iti America. http://www.efilarchives.org/pubications (accessed [date of download]).
Souvenir booklet of the 25th anniversary Annak ti Kailokuan iti Amerika, and 2005 coronations of Mrs. AKA, Miss AKA, and Princesses AKA. Event took place on October 22, 2005, at August Ahrens Elementary School (Waipahu, Oahu).
Booklet includes the following:
Welcome Letters
AKA President Pacita Cabulera Saludes
Attorney Peter A. Aduja
United Filipino Council of Hawaii President Don Alvarez
Biographic Descriptions
Rita Marie Sagucio (Mrs. AKA 2005)
Rochel Mae Balanay (Miss AKA 2005)
Forence Peralta (Princess AKA 2005)
Amanda Chang (Princess AKA 2005)
Florence Harding (photograph only)
Other
AKA Objects and Committees
Anaraar iti Likud ti Sipnget Drama Participants
Past Queens of AKA
Royal Court
Program
Acknowledgement
Sponsor Advertisements