GUMIL HAWAII
Annak ti Kailokuan iti Amerika
(Children of Ilocanos in America)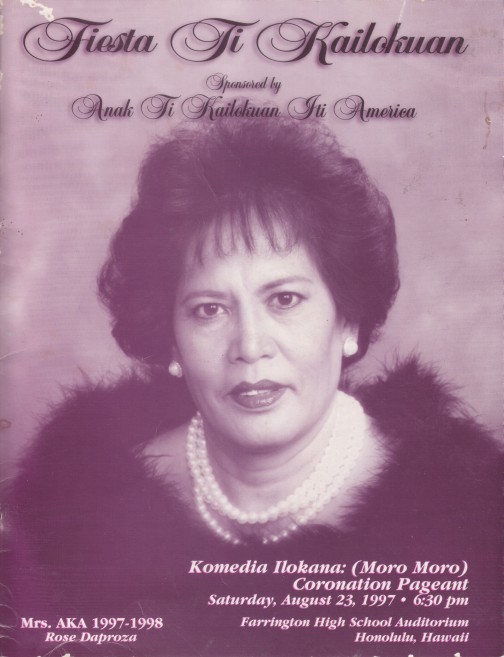 Fiesta Ti Kailokuan 1997
Komedia Ilokana (Moro Moro)
Coronation Pageant
August 23, 1997
Farrington High School Auditorium
Honolulu, Hawaiil
[download, 11.4MB]
Please cite individual articles/writers and volume title as follows:
[author (last name first)]. 1997. [story/poem/essay title] AKA Fiesta Ti Kailokuan 1997 Souvenir Program, [pages]. Pacita C. Saludes and Cleo Bala-Casino, editors. Honolulu: Annak ti Kailokuan iti America. http://www.efilarchives.org/pubications (accessed [date of download]).
Souvenir booklet of the 11th anniversary of Annak ti Kailokuan iti Amerika and 1997 coronations of Mrs. AKA, Miss AKA, and Miss AKA Muses Ilocos Sur and Abra. Event took place on August 23, 1997, at the Farrington High School Auditorium (Honolulu, Oahu).
Booklet includes the following:
Welcome Letters
Mayor of Honolulu Jeremy Harris
Consul General of the Philippines Minerva Jean A. Falcon
AKA President Pacita Cabulera Saludes
Founder GUMIL California Servino A. Lazo
Attorney Peter A. Aduja

Biographic Descriptions
Grace Ann Cabulera (Miss AKA 1997)
Nieva Blue (Muse Abra AKA 1997)
Senie Conaty (Muse Iloco Sur AKA 1997)
Rose Daproza (Mrs. AKA 1997)
Lourdez Aragon Nedic (VP AKA West Covina, CA)
Other
Past Queens of AKA and Committees
Drama Written and Staged by AKA
How Annak Ti Kailokuan Itit American Came Into Being (Pacita C. Saludes)
Royal Court
Program
Komedia (Moro Moro) Participants
Acknowledgement
Sponsor Advertisements