GUMIL HAWAII
Gunglo Dagiti Mannurat nga Ilokano iti Hawaii
(Association of Ilocano Writers in Hawaii)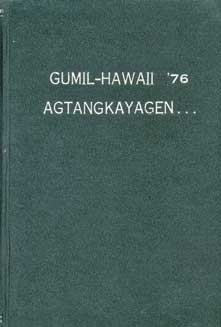 GUMIL-Hawaii '76: Agtangkayagen (1976) - 4th anthology [download]
Please cite individual articles/writers and volume title as follows:
[author (last name first)]. 1976. [story/poem/essay title] GUMIL-Hawaii '76: Agtangkayagen, [pages]. Pacita Cabulera Saludes, editor. Honolulu: Gumil Hawaii. http://www.efilarchives.org/pubications (accessed [date of download]).
I. ILUKO SEKSION
Paz Tacderan Cabulera
Gapu Ta Patpatgenka
Pacita Cabulera Saludes
Agtangkayagen Ti Init
Leo Blanco
Arapaap
Perlita Yoro
Bay-am nga Awiten Ti Supapak Ti Kinaulpitmo
Arnold Baxa
Annay Pusok, Annay...
Amado Yoro
Maysa Pay A Pannubok Iti Biagna
Mario Abinsay Albalos
Ti Imatangko Iti Gumil-Hawaii, Idi, Ita Ken Iti Masakbayan
Felipe Madarang
Gumil-Hawaii 1971-76
Bitla Ti Maysa Kadagiti Pondador
Nailadawan A Pakasaritaa Ti Gumil Hawaii
Sertipiko Ti Seminar
Dagiti Kamkameng (Members)
Dagiti Ahensia a Nakatulong Itoy a Libro
II. ENGLISH SECTION
Greetings from the Filipino Crusader World Army Inc.
Iluko: The Language (Lawrence Reid)
The Objectives of Gumil Hawaii