GUMIL HAWAII
Annak ti Kailokuan iti Amerika
(Children of Ilocanos in America)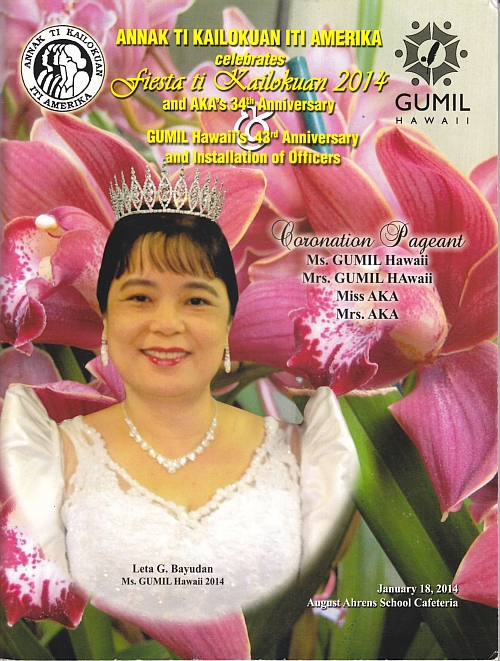 Fiesta ti Kailokuan 2014
Installation of Officers
AKA's 34rd Anniversary
GUMIL Hawaii's 43nd Anniversary
CORONATION PAGEANT (2014)
Ms. GUMIL Hawaii
Mrs. GUMIL Hawaii
Miss AKA
Mrs. AKA
January 18. 2014
August Ahrens School Cafeteria
[download, 28.8MB]
Please cite individual articles/writers and volume title as follows:
[author (last name first)]. 2014. [story/poem/essay title] Annak Ti Kailokuan it Amerika 2014 Souvenir Program, [pages]. Pacita C. Saludes, Lilia E. Del Rosario and Ciralina Longboy, editors. Honolulu: Annak ti Kailokuan iti America. http://www.efilarchives.org/pubications (accessed [date of download]).
Souvenir booklet of 43nd anniversary of GUMIL Hawaii, the 34rd anniversary of Annak ti Kailokuan iti Amerika, and 2014 coronation of Ms. GUMIL Hawaii, Mrs. GUMIL Hawaii, Miss AKA and Mrs. AKA. Event took place on January 18, 2014, at the August Ahrens School Cafeteria (Waipahu, Oahu).
Booklet includes the following:
Welcome Letters
AKA President Pacita Cabulera Saludes
Hawaii State Senator Will Espero
Consul General of the Philippines Julius D. Torres
United Filipino Council of Hawaii (UFCH) President Jenny Alconcel Quezon
Oahu Filipino Community Council (OFCC) President Jean Jeremiah
Incoming GUMIL Hawaii President Salvador F. Oblado, Jr.
Outgoing GUMIL Hawaii President Cirvalina Ramos Longboy

Biographic Descriptions
Leta G. Bayudan (Ms. GUMIL Hawaii 2014)
Marlene M. Espiritu (Mrs. GUMIL Hawaii 2014)
Lydia Ulep Evangelista (Mrs. AKA 2014)
Deanelle Lozano Mizukami (Miss AKA 2014)

Other
GUMIL Hawaii Officers 2014-2016
Annak ti Kailokuan iti America Officers 2013-2015
Annak ti Kailokuan iti America Representatives from Other States
Photographs GUMIL Filipinas and GUMIL Hawaii (1971)
Anthologies Published by GUMIL Hawaii
Listing of GH Muses, Miss GH, Miss & Mrs GHi Valentines and Mrs. GH (1972-2012)
Listing of Dramas and Plays Staged by GUMIL Hawaii (1975-2004)
Acknowledges
Royal Court 2014
Program Description
Sponsor Advertisements