GUMIL HAWAII
Annak ti Kailokuan iti Amerika
(Children of Ilocanos in America)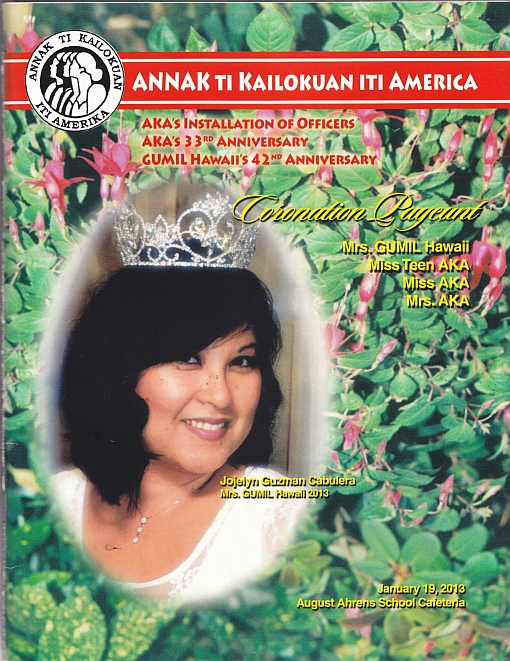 AKA's Installation of Officers
AKA' 33rd Anniversary
GUMIL Hawaii's 42nd Anniversary
CORONATION PAGEANT (2013)
Mrs. GUMIL Hawaii
Miss Teen AKA
Miss AKA
Mrs. AKA
January 19. 2013
August Ahrens School Cafeteria
[download, 19.5MB]
Please cite individual articles/writers and volume title as follows:
[author (last name first)]. 2013. [story/poem/essay title] Annak ti Kailokuan iti Amerika 2013 Souvenir Program, [pages]. Pacita C. Saludes, Lilia E. Del Rosario and Ciralina Longboy, editors. Honolulu: Annak ti Kailokuan iti America. http://www.efilarchives.org/pubications (accessed [date of download]).
Souvenir booklet of 42nd anniversary of GUMIL Hawaii, the 33rd anniversary of Annak ti Kailokuan iti Amerika, and 2013 coronation of Mrs. GUMIL Hawaii, Miss Teen AKA, Miss AKA and Mrs. AKA. Event took place on January 19, 2013, at the August Ahrens School Cafeteria (Waipahu, Oahu).
Booklet includes the following:
Welcome Letters
AKA President Pacita Cabulera Saludes
GUMIL Hawaii Vice President Cesar G. Bonilla
Deputy Consul General of the Philippines Paul Raymund P. Cortes
Biographic Descriptions
Jocelyn Guzman Cabulera (Mrs. GUMIL Hawaii 2013)

Other
Annak ti Kailokuan iti America Officers 2013-2015
Annak ti Kailokuan iti America Representatives from Other States
GUMIL Hawaii Officers 2012-2014
Drama ("Uray Lakay no Landing") Players
Past Queens of AKA and Coordinating Committees
Royal Court 2013
Program Description
Acknowledgements
Sponsor Advertisements