GUMIL HAWAII
Annak ti Kailokuan iti Amerika
(Children of Ilocanos in America)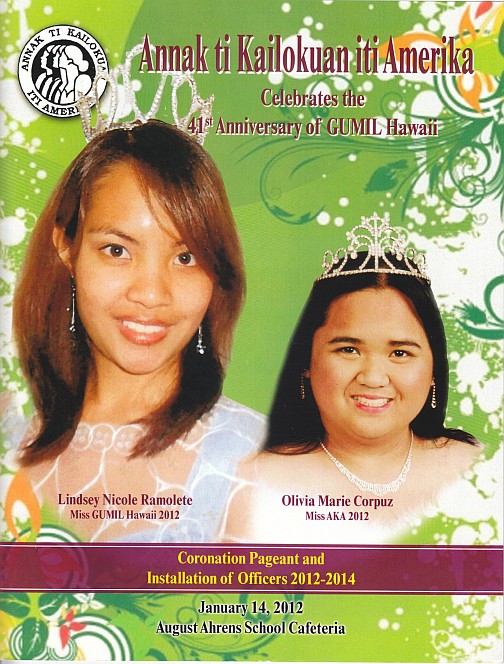 Installation of Officers
Coronation Pageant
GUMIL Hawaii's 41st Anniversary

January 14, 2012
August Ahrens School Cafeteria (Waipahu, Oahu)
[download, 18MB]
Please cite individual articles/writers and volume title as follows:
[author (last name first)]. 2012. [story/poem/essay title] Annak ti Kailokuan iti Amerika 2012 Souvenir Program, [pages]. Pacita C. Saludes, Lilia E. Del Rosario and Leta Bayudan, editors. Honolulu: Annak ti Kailokuan iti America. http://www.efilarchives.org/pubications (accessed [date of download]).
Souvenir booklet of 41st anniversary of GUMIL Hawaii, the 2010 coronation of Miss GUMIL Hawaii, Miss AKA and Mrs. AKA. Event took place on January 14, 2012 at August Ahrens School Cafeteria (Waipahu, Oahu).
Booklet includes the following:
Welcome Letters
AKA President Pacita Cabulera Saludes
Consul General of the Philippines Julius D. Torres
GUMIL Hawaii President (incoming) Cirvalina R. Longboy

Biographic Descriptions
Olivia Marie Subia Corpuz (Miss AKA 2012)
Remy B. Dizon (Mrs. AKA 2012)
Lindsay Nicole Saludes Ramolete (Miss GUMIL Hawaii)
Other
Past Queens and Committees
AKA Objectives
Annak ti Kailokuan iti America Representatives from Other States
Dagiti Antolohia ti GUMIL Hawaii
Royal Court
Program
Sponsor Advertisements