GUMIL HAWAII
Annak ti Kailokuan iti Amerika
(Children of Ilocanos in America)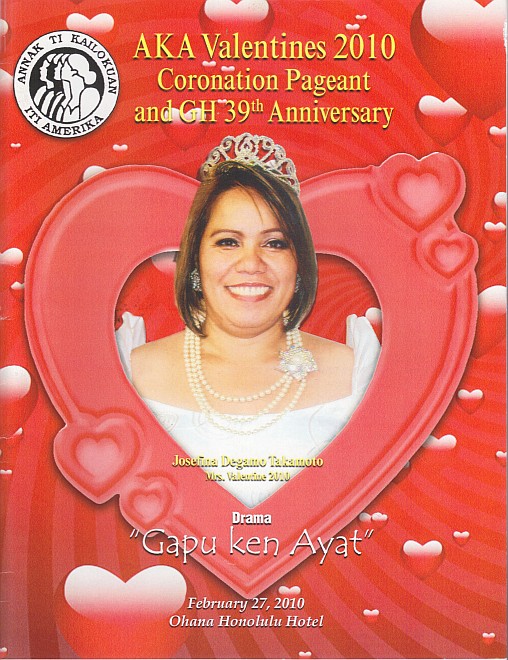 AKA Valentines 2010
Coronation Pageant
GUMIL Hawaii's 39th Anniversary
Gasat Gapu ken Ayat [drama]
February 27, 2010
Ohana Honolulu Hotel
[download, 11MB]
Please cite individual articles/writers and volume title as follows:
[author (last name first)]. 2010. [story/poem/essay title] AKA Valentines 2010 Souvenir Program, [pages]. Pacita C. Saludes and Lilia E. Del Rosario, editors. Honolulu: Annak ti Kailokuan iti America. http://www.efilarchives.org/pubications (accessed [date of download]).
Souvenir booklet of 39th anniversary of GUMIL Hawaii, the 26th anniversary of Annak ti Kailokuan iti Amerika, and 2010 coronation of Mrs. AKA Valentine, Miss AKA Valentine, and Miss AKA Muse Valentine. Event took place on February 27, 2010, at the Ohana Honolulu Hotel (Honolulu, Oahu).
Booklet includes the following:
Welcome Letters
Consul General of the Philippines Leoncio R. Cardenas
AKA President Pacita Cabulera Saludes

Biographic Descriptions
Dolores Tabion (Muse)
Josefina Degamo Takamoto (Mrs. AKA Valentine 2010)
Lindsey Nicole Saludes Ramolete (Miss AKA Valentine 2010)

Other
Dagiti Antolohia ti GUMIL Hawaii
Drama Written and Staged by GUMIL Hawaii
Gasat Ken Ayat Drama Participants
Royal Court
Program
Acknowledgement
Past Queens of AKA and Committees
Sponsor Advertisements