GUMIL HAWAII
GUMIL Hawaii: Association of Ilocano Writers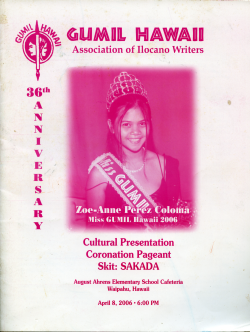 36th Anniversary (2006)
Cultural Presentation
Coronation Pageant
Skit: SAKADA
[download, 6MB]
Please cite individual articles/writers and volume title as follows:
[author (last name first)]. 2006. [story/poem/essay title] GUMIL Hawaii: 36th Anniversary 2006 Souvenir Program, [pages]. Pacita C. Saludes and Brigido Daproza, editors. Honolulu: GUNIL Hawaii. http://www.efilarchives.org/pubications (accessed [date of download]).
Souvenir booklet of the 36th anniversary of GUMIL Hawaii celebration. Event includes cultural presentation, coronation pageant for Miss & Mrs. GUMIL Hawaii, and a drama presentation (SAKADA). Event took place on April 8, 2006, at August Ahrens Elementary School Cafeteria, Waipahu, Hawaii.
Booklet includes the following:
Welcome Letters
Mrs. GUMIL Hawaii 2006 Feliza M. Cristobal
GUMIL Hawaii President Brigido Daproza
Philippine Consul General Ariel Y. Abadilla
Miss GUMIL Hawaii Zoe-Anne Perez Coloma
Biographic Descriptions
Minerva C. Jacobs (Mrs. Freedom 2006)
Albina Gamponia (Mrs. Press 2006)
Other
Objectives of GUMIL Hawaii
Photos taken at 76 birthday of Pacita Saludes
Listing of publications and dramas by GUMIL Hawaii
Looking Back...GUMIL Hawaii Muses (listing past princesses, queens and muses)
Coordinating committees
Royal Court 2006
Program description
Sponsor advertisements