GUMIL HAWAII
GUMIL Hawaii: Association of Ilocano Writers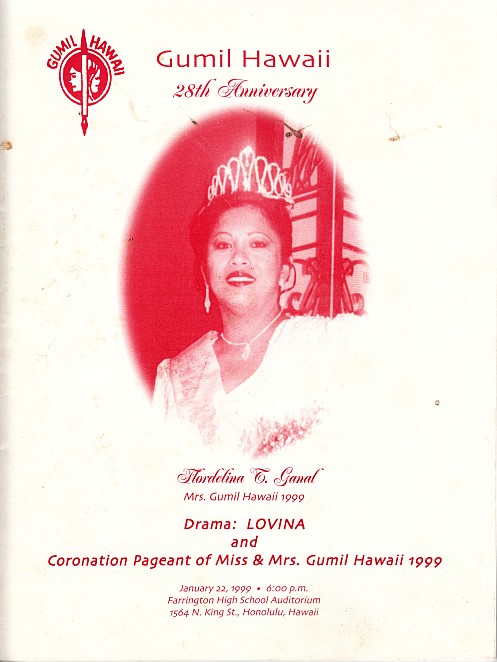 28th Anniversary (1999)
Cultural Presentation
Coronation Pageant
Drama: LOVINA
[download, 17.8MB]
Please cite individual articles/writers and volume title as follows:
[author (last name first)]. 1999. [story/poem/essay title] GUMIL Hawaii: 28th Anniversary 1999 Souvenir Program, [pages]. Pacita C. Saludes, Cleo Bala and Edith Pascua, editors. Honolulu: GUMIL Hawaii. http://www.efilarchives.org/pubications (accessed [date of download]).
Souvenir booklet of the 28th anniversary of GUMIL Hawaii celebration. Event includes cultural presentation, coronation pageant, and a drama presentation (LOVINA). Event took place on January 22, 1999, at Farrington High School Auditorium, Honolulu, Hawaii.
Booklet includes the following:
A Writers' Guild Is Born! (Gumil-Hawaii: In Retrospecti), by Melchor Cadavona Agag, Jr.
History of GUMIL Hawaii in 28 Years, by Pacita C. Saludes
GUMIL Hawaii [prayer], by Pascual R. Rarama
Biographic Descriptions
Lei Ann Cadiz (Miss Gumil Hawaii 1999)
Lovelyn Briones (Miss Freedom 1999)
Merlina R. Blue (Miss Press 1999)
Hazel Manera Doronio (First Princess 1999)
Ofelia A. Subia (Mrs. Freedom 1999)
Joy Janice Balangue (Second Princess 1999)
Flordelina Ganal (Mrs. Gumil Hawaii 1999)
Other
Dagiti Antolohia Ti Gumil Hawaii (Anthologies Published by Gumil Hawaii)
Drama Written and Staged by Gumil Hawaii [listing 1975-1999]
Objectives of Gumil Hawaii
Looking Back...GUMIL Hawaii Muses [listing past princesses, queens and muses]
Photographs of activities
Steering Committee
Acknowledgement
LOVINA Cast of Characters
Royal Court 1999
Program description
Sponsor advertisements