THE FILIPINOS IN HAWAII: THE FIRST 75 YEARS
All materials here are copyrighted and should be properly cited when used.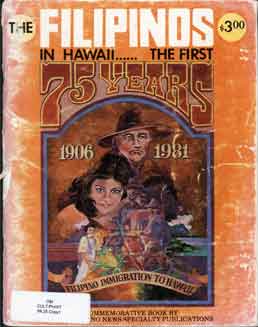 The Filipinos in Hawaii: the First 75 Years was published in 1981 by the Hawaii Filipino News as a supplement to the book, Out of this Struggle, which was published by the 75th Anniversary Commemoration Commission in the same year to mark the 75th anniversary of the coming of Filipinos to Hawaii.
Publication is divided into the following five downloadable files. Chapter titles in each file are listed.
File 1 (29 pages, 15MB)
Cover
The Staff
Table of Contents
Preface
Messages
Exodus to the Golden Islands
Albert Judd letter (includes names of first 15 recruits)
File 2 (33 pages, 18.5MB)
1906: The First Sakada
Talking Story: The Old Man of the Cane Fields, The City People
Kauai's 1946 Immigrants
The Great Filipino Migration
Hawaii's New Citizens: Problems and Issues
File 3 (26 pages, 25.6MB)
Reverse Immigration: Balik-Bahay
Profile of the Filipino
The Philippine Consulate in Honolulu
Celebrating 75 Years
Filipinos in Politics & Government
Filipino Organizations: A History
Kapuripuri: 75 Years of Filipino Labor
File 4 (23 pages, 12.4MB)
Education: The Filipino Dream
Modesto Salve
Filipino Entrepreneurs
The Filipino Chamber of Commerce
The Filipinos in Medicine
In the Old Days They Stole Wives - Not Money: The Story of
Kauai's 'Grand Old Lady'
The Performing Pinoy: Arts and Entertainment
File 5 (26 pages, 16.6MB)
In Praise of Fiestas
Filipinos in Religion
Filipinos in the Military
Filipinos in Sports
Filipinos in Communication
Acknowledgements
Back Cover